William Blake -The Mystic
''Holy Shit! An angel!''
Ok I know he's better known for his poetry than his painting but like the individual that stole the top spot Blake's writing and pictures combine to form an epic mythology. As weird as he was Blake is still by far the coolest person on this list.
Blake was ahead of his time as a slavery abolitionist, feminist and critic of the Church. Such things made him a social outcast during his life.
In fact he was so far ahead of his time we have yet to catch up with him and he is widely regarded as batshit insane. He experienced 'visions' from an early age when seeing the face of 'God' through a window caused the 4 year old Blake to scream hysterically.
Blake may have been dyslexic
After that he spoke with ghosts and saw Angels on a regular basis.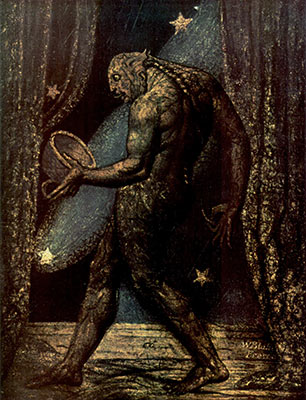 'The Ghost of a Flea'
A living flea
He also made up his own religion . He was the L. Ron Hubbard of his era. He wrote several philosophical 'Prophetic' books outlining his world view including characters like the Evil creator God Urizen, Tharmas the God of Strengh, Urthona imagination and Luvah or love, also known as 'Orc'. Actually maybe he was 'The J.R.R. Tolkien of his era.
Blake on a normal Saturday night
Did you know?
Blake once said:
''Do what you will, this world's a fiction and is made up of contradiction.''
William Blake